How to Use iPhone Images in Your Kindle eBooks (What "They" Won't Tell You)
Thursday, January 10th, 2013 at 1:48 pm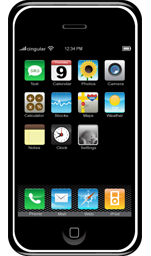 Here is a guest post and some great information for Kindle Publishers from my friend, John S Rhodes.
Have you ever wondered if you could create a simple Kindle picture book using nothing but your iPhone or camera phone? Well, I was recently talking with my friend Tony Laidig about putting images into a Kindle book and we figured it out for you, so keep reading.
Before I explain the technical details, I've got to tell you a dirty little secret. Kindle picture books are super easy to put together and they sell like crazy if you're in the right niches and if you select the right categories on Amazon. So, read between the lines here — I'm talking about how you can quickly create books that can pour royalties into your Kindle account.
Now, here's why I am shocked about using my iPhone to create Kindle picture books –
If you're willing to sacrifice just a little… and if you're willing to play by the rules, you can create a Kindle picture book. Let me explain the caveats. The color depth of an iPhone is not as good as what you'll get from a "real" camera. Also, there's limited focal length. So, quality significantly drops if you want to zoom. And, depth of field is limited.
Does that sound like gloom and doom to you? It might but only if you're serious about super professional quality images. But, honestly, this stuff doesn't matter much to me and other authors and self-publishers… as long as we recognize that we cannot get "perfect" images for our covers and images inside the book.
Stop.
Did you catch that?
You can use your iPhone camera to snap pictures for your book cover too, not just the images that go inside your Kindle book. Here's what you need to know.
Amazon recommends a maximum resolution of 2,500 x 1,563 pixels for Kindle ebook covers . If you've got an iPhone 4, iPhone 4s or iPhone 5 then you are in luck! Let's look at the resolution you get from each…
• iPhone 4 = 2592 x 1936 pixels
• iPhone 4s = 3264 x 2448 pixels
• iPhone 5 = 2592 x 1936 pixels
Two things I need to add here. First, for the sake of simplicity, I'm leaving out stuff like actual number of megapixels per image, the F-stops, B&W vs. color, and other stuff that professionals care about. I'm also leaving out the fact that you can get away with using lower image resolutions, and that you can use an iPad 3 and even an iPad mini to shoot cover images. It starts to get too complicated to explain here. But, I reveal the solution below so don't worry.
Well –
Are you excited about this? I sure am. And, if you want to learn about using your iPhone for the images inside your book, then keep reading.
In most cases a width of 1,000px is plenty, although actually 800px (width) is better because you save on upload limits, download limits, and total book size. It matters because the maximum file size allowed for a Kindle book is 50MB. In any case, you really only need a width of 800 pixels for your interior images.
Oh, right… here are a couple more things to keep in mind.
Be sure your images are in JPEG (.jpeg) format and be sure to compress your images for medium quality. You don't need to go bonkers with high compression to save space or low compression to increase quality. Middle of the road is perfectly fine for a Kindle book. Trust me.
Boy, there sure is a lot more that I could talk about but I don't have the room here. However, I've got some great news –!
I'm going to reveal everything you need to know about using iPhone images with your own Kindle book – in step-by-step, how to detail! – in a course that I'm releasing with James J. Jones, Matt Rhodes and Jay Boyer next week. I bet you have some questions right now and I want to help as much as I can.
So, I'm going to give away 25 advance review copies of the new course. To qualify for a review copy please leave me a comment or question about this blog post. The 25 best comments/questions will receive a review copy of this course before it's released.
Get cracking now. Post your comment or question below and win a FREE review copy…
Filed under: Uncategorized
Like this post? Subscribe to my RSS feed and get loads more!